How it all started
All of the teams had impressively realizable and well-thought-out business ideas. Whether with competitor analyses or advertising concepts, they proved their skills again and again. The highlight of the one-year project was the development and presentation of a business idea. Teams of five to six students and one teacher set out to look for market gaps and come up with new business ideas, working under the strictest secrecy. And in fact, the ideas they came up were all very different.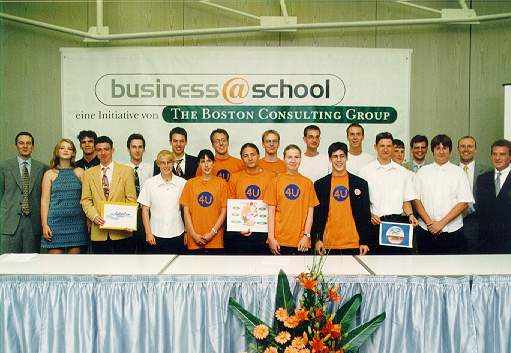 The winner: Service 4U
The winning team from the Carl Friedrich Gauß Gymnasium convinced the judges with a long-overdue idea: "Many people in Germany have homes with gardens, but often don't have the time or desire to do the routine work that has to be done. What Germany needs is a well-known company that offers these services in a flexible, friendly way and at an affordable price. Our company Service 4U plans to change this situation!" declared the team. They created a complete company identity, including visually, all the way from the logo to the uniform (in eye-catching orange).