How business@school Alumna Josefin Graebe Went to Silicon Valley
At first glance, a love story doesn't seem to fit the cliché of life in Silicon Valley. The region around Palo Alto attracts people who have grand plans for their professional future and want to change the business world with their ideas. After all, this is the place that companies like Tesla, Apple, Facebook, and WhatsApp call home. It's about high tech, software, your own start-up. But not about love.
From the small town to Silicon Valley
But Josefin from the small town of Viernheim in Germany found love in Silicon Valley. The 26-year-old moved there during her studies, completed a practical phase as part of her work-study program at SAP's Palo Alto branch. She would advise any student who dreams of Silicon Valley to complete an exchange or internship program, since they occasionally even result in full-time opportunities, Josefin tells us through her computer's webcam.
Her now husband was also at SAP as an intern from Germany. "We had the best summer of our lives and really enjoyed spending time with people from all over the world," recalls Josefin. Suddenly they both only had one week before their return to Germany. It was time to start their master studies. Josefin had everything planned out. But then she and her now husband had a crazy idea: Why not just stay there, together?
"We had one week to find two permanent jobs," Josefin recounts. "Without an employment contract, we would not have gotten a residence permit, so we were frantically looking for jobs." On the last day, she was able to convince a manager to give her a short job interview, "even though he really didn't have any time." She got the job, and her boyfriend was successful, too.
"My parents and friends were pretty surprised at the time," Josefin recalls. After all, until that point they had always known her as a person who plans every detail in advance. When she was 17, during her time at business@school, she already knew exactly what she wanted to study, and where. And Carl Frederik Loos, the BCG coach of Josefin's team at the time who remained in contact with her, remembers: "We wrote back and forth quite a lot at the end of her bachelor's studies about her plans: Master's in Germany or go to the US? Then all of the sudden I got wedding pictures from California—there are just some things you can't plan."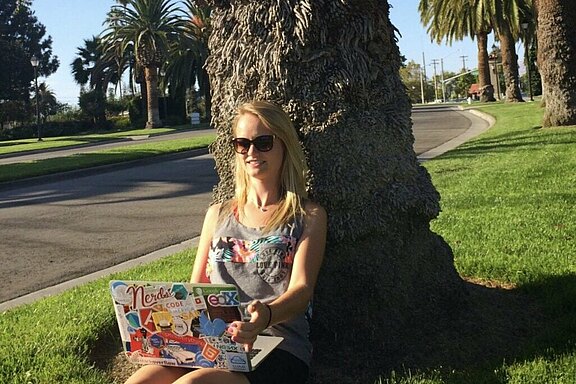 Weight training benches and other business ideas
At business@school, Josefin and her team had developed a smart weight training bench that used sensors to measure wrong movements and gave corrections through a speech computer. In 2010, the team from Kurpfalz-Gymnasium in Schriesheim made it to the regional finals with that idea. Josefin can still clearly recall their presentation before the panel of judges: "We had dragged along this weight training bench, one of my teammates demonstrated the prototype, and then suddenly the speech output stopped working. We all stood there petrified, holding our breath, until the voice finally said: 'more to the left!'"
Today, Josefin wouldn't give that weight training bench a chance, but business ideas of her own are still a major topic for her. "Before my experiences with business@school, I never would have thought that I could start up a company of my own, since I had no clue about the business world," she says. But that year showed her that you don't have to be an expert to take the step into self-employment. A start-up of her own is definitely part of her long-term life plan, she says. "But I still need a good idea, a good team—and good financing," she adds, laughing.
After all, living in the Bay Area is expensive—but there is no place Josefin would rather live and work. As Chief of Staff at ride-sourcing company Uber, she is currently working on a number of strategic projects. "I have an exciting job, I do something different every week. And nobody cares how old you are or how much experience you have. The only thing that counts is what you can contribute to the business."
Always stay on the ball
Josefin doesn't regret canceling her plans for a master's degree. She learns "very, very much" in practice. Unlike in many German companies, in Silicon Valley it's not about degrees and certificates, but about learning something new and developing further every day, whether on the job or in your free time. "Knowledge has such a short half-life here that you always have to stay on the ball," says Josefin Graebe. "People who just sit around here in the café get funny looks."